Impeccable voicing and a bell-like clarity ... gorgeous dynamic range and a gift for interpretative color ... Isbin has been a trailblazer in more ways than most classical musicians could ever dream.

  Fort Worth Star-Telegram



Personal Photos

Press Photos   |   Personal Photos


Sharon Isbin has collaborated with many personalities of our time, from Muhammad Ali to Melissa Etheridge to Antonio Carlos Jobim. Below are some recent photos: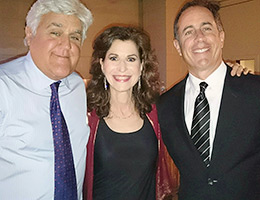 Sharon hangs with Jay Leno, Jerry Seinfeld, hosts Hugh Jackman and Katie Couric backstage at the Kennedy Center after performing in the sold-out benefit for the David Lynch Foundation to bring free Transcendental Meditation to 10,000 veterans and at-risk youth in Washington DC, June 5, 2017!



| | |
| --- | --- |
| Sharon was thrilled to perform solo and with Sting at New York's Carnegie Hall sold-out benefit for the David Lynch Foundation November 4, 2015, joining Katy Perry, Angelique Kidjo and Jerry Seinfeld. | |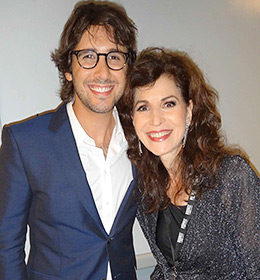 Sharon and Josh Groban performed a mesmerizing rendition of "She's Always A Woman" on the PBS national broadcast of the Billy Joel Gershwin Prize at DAR Constitution Hall in Washington, D.C. November 19, 2014!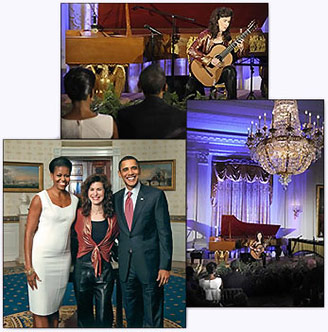 President Obama & First Lady Michelle Obama listen to Sharon Isbin's performance in the East Room at the White House Evening of Classical Music on November 4, 2009.
 
Sharon celebrates with President Obama and the First Lady at the White House following her performance.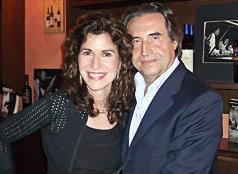 Sharon & Riccardo Muti at dinner following her performance at the Ravenna Festival, Italy, July 14, 2009.





Sharon & Martina Navratilova after filming interview for upcoming Isbin television documentary. Aspen Music Festival, August 2008.



Sharon performed and actor Michael Tucker (LA Law) delivered the keynote speech at the 2010 Alzheimer's Association Gala in Minneapolis. The 800 attendees raised over $390,000 for the Association's programs and services, and celebrated the lives of loved ones with Alzheimer's.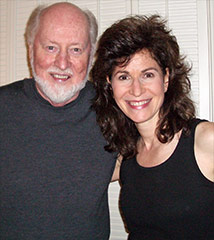 Sharon and composer John Williams rehearse at his home November 2007. On hearing Journey to the New World he wrote: "It combines a brilliant idea with masterful execution and I warmly congratulate you! So impressive ... it's hard to keep the feet still, spirits soar, too!"


A student of Latin dance, Sharon made her debut in a rumba/mambo/merengue choreography shown here with instructor Timofey Shalnev. She also shared the stage with the evening's MC Tony Dovolani of ABC's Dancing with the Stars in this benefit for the High School for Arts presented by the Fred Astaire Dance Studio, June 30, 2010.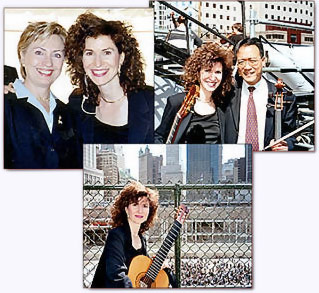 On September 11, 2002, Sharon Isbin was honored to perform in New York City at Ground Zero for the internationally televised memorial accompanying the reading of the names of those who perished. Over 24,000 family members and survivors attended. She is shown here with Senator Hillary Clinton, who read at the event, and with fellow performer Yo-Yo Ma.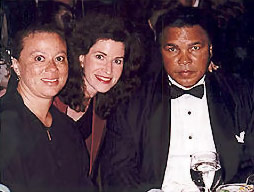 Sharon joins Muhammad Ali and his wife Lonnie at the 20th Anniversary Gala dinner to benefit Birch Services on October 10, l996 at the Pierre Hotel in New York. In the event hosted by Ed Bradley, Sharon was the guest performer and Ali was honored for his support of the Birch Family Camp for children with AIDS. The evening raised $600,000 for this non-profit organization.
(Photo: Stuart O'Shields)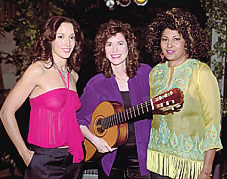 Sharon is the featured guest performing (and acting!) on Showtime Television's The L Word, Season 2, episode 7. She is shown here with Jennifer Beals and Pam Grier with whom she shares a scene at The Planet.

Sharon studied for 10 years with the great Bach scholar and keyboard artist, Dr. Rosalyn Tureck. Together they edited the Complete Bach Lute Suites which Sharon recorded for Virgin Classics/EMI; G. Schirmer, Inc. published their groundbreaking performance editions. They are shown here in Oxford England at the beginning of their 25-year friendship, July 1980. Dr. Tureck passed away on July 17, 2003.



Patti LaBelle paid tribute to Sharon at the Philadelphia Recording Academy Honors after hearing her performance that evening for the Philadelphia Orchestra's award. April 10, 2006.



Greeting friend David Hyde Pierce backstage at Curtains, March 29, 2007.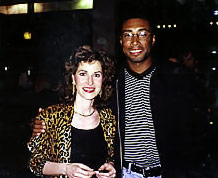 New York Yankee star Bernie Williams congratulates Sharon after her concert at the Performing Arts Center in Tampa, Florida (March 14, l998). Rumor has it that Bernie, who is also an avid guitarist, may soon join up with Sharon for a duet.



Aretha Franklin and Sharon visit after their performances with the Baltimore Symphony Orchestra on August 11, l996 in the 'Great Hall' of the National Building Museum in Washington, D.C. Sharon played Joaquin Rodrigo's Concierto de Aranjuez, and later joined Aretha for an encore. (Photo: Peter Bischoff)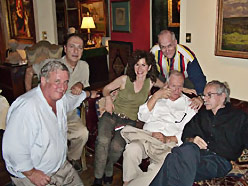 Edmund White, Sharon Isbin, Ned Rorem, and Edward Albee (bottom row) celebrate filmmakers John Kolomvakis and Jim Dowell's (top row) documentary Ned Rorem: Word & Music in which all appear and Sharon performs Rorem's Songs of Sadness, composed for her. (Photo: September 25, 2005, New York City)



Sharon is elated to play one of only two Stradivarius guitars that exist in the world.
(Photo: National Music Museum, Vermillion, SD, March 27, 2006.)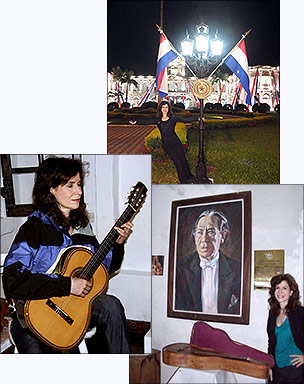 Sharon performed in Asuncion Paraguay for the Bicentennial in May 2011. Shown here visiting the Agustin Barrios Mangore home and museum, playing on Barrios' 1918 guitar, and celebrating at the Palacio de Lopez.



Sharon teams up with Al Jarreau, and Brazilian pop singers Ivan Lins, Leila Pinheiro and Dori Caymmi in their October 31, l997 concert tribute to Antonio Carlos Jobim in New York's Carnegie Hall. (Photo: Steve Sherman)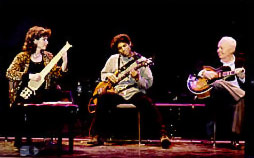 Sharon, playing on her SoloEtte Travel Guitar, trades riffs with jazz greats Stanley Jordan and Herb Ellis at the Kravis Center in West Palm Beach, Florida during their Feb/March l998 Guitar Summit tour.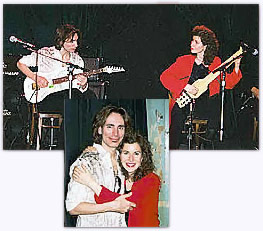 Rock legend and Grammy winner Steve Vai performs duets with Sharon at The Bottom Line, New York City, January 17, 2002.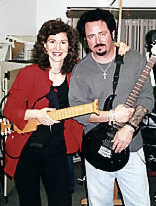 Grammy winner Steve Lukather, guitar hero from the rock band Toto, performed duets with Sharon in a workshop they gave for 'Grammy in the Schools' in Los Angeles, February 26, 2002.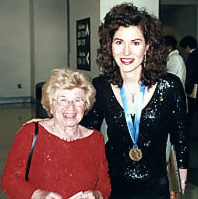 Dr. Ruth Westheimer and Sharon get acquainted at the Grammy Awards ceremony in Los Angeles where both were nominees, February 27, 2002.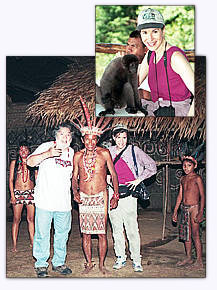 Sharon and Thiago de Mello get tips from a tribal chief in the Amazon rain forest in the days following their August 30, 2001 performance in the legendary Teatro Amazonas in Manaus, Brazil where Enrico Caruso once sang and Margot Fonteyn danced. Sharon also shares an intimate moment with a friendly woolly monkey.


Garrison Keillor chats with Sharon after their November 8, l997 'Prairie Home Companion' live show and national radio broadcast at the Fitzgerald Theater in St. Paul, Minnesota. Sharon, who has been a frequent guest on the show, was joined by Thiago de Mello who performed selections with her from their Journey to the Amazon CD. (Garrison once revealed that he sometimes writes his monologues while listening to her music.)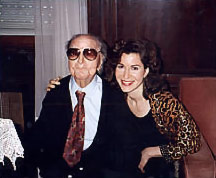 Joaquin Rodrigo and Sharon share a reunion at his home in Madrid on May 23, l998. Their long friendship dates from l979 when Rodrigo first invited her to his home after learning that she was a winner of the Queen Sofia Competition—she then played his Concierto de Aranjuez for him and his wife Victoria Kamhi. Her l991 recording of the work, which he praised as 'magnificent', remains one of his favorites.



John Corigliano and Sharon share smiles with a friendly land iguana in the Galapagos Islands (January 1994). After Sharon premiered John's guitar concerto, Troubadours, they celebrated by vacationing for two weeks on the Islands and trekking in the Amazon rain forest.






After a performance with Melissa Etheridge of 'You Can Sleep While I Drive', Sharon joins friend Martina Navratilova in her Aspen home for a toast to the New Year, January 1, 1996.



Singer Holly Near surprises Sharon with a visit and reunion at her September 27, 1999 recital at the Juilliard Theater. Sharon's concert celebrated the 10th anniversary of The Juilliard School Guitar Department which she created in 1989.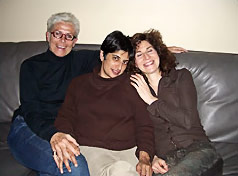 Sharon with comedienne extraordinaire Kate Clinton and writer/activist Urvashi Vaid, January 4, 2006, NYC.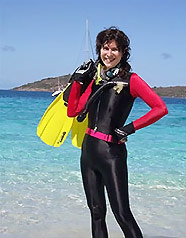 Suiting up to snorkel in St. John, Virgin Islands, January 2007.