By Sharon Isbin

Table of Contents


Foreword by Jeffrey Pepper Rodgers
Introduction by Sharon Isbin


Equipment
    Auditioning a Guitar
    Choosing the Right Scale Length
    Cedar vs. Spruce Tops
    Instrument Care and Repair
    Locating Rattles
    Testing Strings
    Changing Strings
    Footstools
    Amplification Setups
    Traveling with a Guitar

Starters
    Tuning Up
    Finding a Comfortable Playing Position  
    Playing Lefty
    Lessons for Children
    Singles Notes vs. Chords for Beginners  
    Finding the Right Teacher
    Studying with a Teacher vs.
      Using Method Books
    Studying Multiple Systems
    Choosing a Guitar Program

Fingernails and Calluses
    Playing with Fingernails
    Fingernail First Aid
    Caring for Calluses
    Bass-String Squeaks

Practicing
    Structuring Practice Time
    Using a Metronome
    Warming Up for Performance
    Taking a Vacation from the Guitar

Repertoire and Interpretation
    Basic Repertoire
    Keeping Abreast of New Music
    New Music for Classical Audiences

5
7


9
9
10
11
11
13
14
14
15
16
18

19
19
20
21
21
21
22

23
23
24

25
25
26
26
26

29
29
29
30
30

33
33
33
34
    Embellishing Composed Music
    Ensemble Playing
    Using Altered Tunings
    Handling Rests in a Score

Refining Techniques
    Harmonics
    Free Strokes and Rest Strokes
    Tremolo Exercises
    Stopping Open Strings
    Cross-String Ornaments
    Percussive Techniques

Roadblocks
    Breathing
    Making Faces
    Reading High Notes on the Staff
    Hand Fatigue
    Rebuilding Hand Muscles after Injury

Where Mind Meets Music
    Memorizing Tips
    Relaxation and Visualization for Performing  
    Tripping Over Mistakes

Making a Career
    Approaching Music Publishers
    Finding a Niche in the Classical World

NEW CHAPTERS IN THE 2nd EDITION

Notes on Concert Programming
        (includes sample concert programs)
Concerti for Guitar and Orchestra
        Performed by Sharon Isbin
Nylon-String Guitar Makers
Salons & Shops Specializing in
        Classical Guitar
Organizations
Classical Guitar Education Programs
Books
Periodicals
About the Author
Selected Recordings by Sharon Isbin
35
36
37
37

39
39
40
42
42
43
47

49
49
50
50
51
52

53
53
54
56

57
57
57



59

68

70
75

76
77
80
81
82
84
When Sharon Isbin reaches for her guitar, closes her eyes, and begins to play, her music casts a spell. From the very first notes, her deep immersion in the music and her practiced and precise touch on the instrument allow her to cut right to the heart of the piece she's playing—and of the listeners themselves. In those moments, it doesn't matter who the composer is or what style or genre the piece is in; the communication is pure, visceral, and transporting.
 
In addition to hearing Isbin perform, I've had the good fortune to work closely with her in my role as editor of Acoustic Guitar. Her Master Class column, in which she answered readers' questions, appeared in our premier issue in the summer of 1990 and in every issue for the next four years. Although Isbin is a "classical" guitarist, it became clear right away that as a writer she cut through the categories of style and genre just as she does as a player. Many of the issues that she discussed are equally applicable to a steel-string strummer and to an aspiring classical player. The readers of Acoustic Guitar picked up on this quality in Isbin's work right away, and what ensued were four years of wide-ranging and thought-provoking exchanges that form the basis of this book.
 
Reading over the 50 collected questions and answers in the Classical Guitar Answer Book, I'm struck by how much Isbin's commitment and caring shine through. There's a lot of inspiring advice to be found in these pages—as well as plenty of calls for hard work and dedication—that make me want to open my guitar case and get on with the quest of becoming a better musician. Onward and upward...
 
  Jeffrey Pepper Rodgers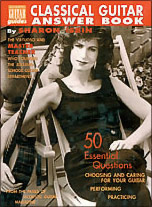 When you have guitar questions, reach for the book that has the answers.
 
'How can I memorize pieces more effectively for performance? How often should I change strings? What's the best way to structure practice time? What are the differences between spruce and cedar guitar tops?'
 
Sharon Isbin, the virtuoso concert artist who heads the guitar department at the Juilliard School of Music, has answered scores of questions like these in her acclaimed Acoustic Guitar Magazine Master Class column.
 
Now Sharon Isbin and Jeffrey Pepper Rodgers, editor of Acoustic Guitar Magazine, have chosen 50 essential Master Class questions and answers for the Classical Guitar Answer Book.
 
This is a book for every guitar enthusiast, teacher, and student. No matter what styles of music you play, or the kind of guitar you play on, you'll find a wealth of information and tips in the Classical Guitar Answer Book.
 
Answers that will help you learn new music more easily. Use your practice time more productively. Evaluate a new guitar more knowledgeably. Avoid fatigue and injury. Take a more balanced and thoughtful approach to all the music you play and listen to.
 
Order Online from BarnesandNoble.com or use the free number to order from Music Dispatch: 1-800-637-2852. Indicate that it is item #330443. If you are outside of the United States or Canada, phone: 414-774-3630 and request the Music Dispatch department. If you are a guitar teacher or dealer, please inquire on the phone about special prices for multiple copies for your students or your store.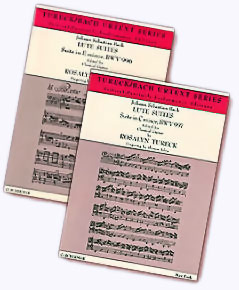 The Lute Music of J.S. Bach
 
Researched, edited and transcribed for classical guitar by noted Baroque musicologist Rosalyn Tureck. Fingered by Sharon Isbin.
 
These two editions have received rave reviews from guitarists around the world, being called "the most comprehensively scholarly edition to date of any guitar version of a work of Bach" —Guitar International. Complete with critical notes, manuscript references, embellishments, and performance practice information. Invaluable editions for the Bach/Baroque enthusiast.
BWV996 (E Minor) 50336540......$9.50
BWV997 (A Minor) 50504280......$9.50
G. Schirmer
 
You can order all of these publications from: 800-637-2852
If phoning outside the U.S. or Canada, phone 414-774-3630 and ask for the Music Dispatch department.
 
Or from:
Guitar Solo Publications, 230 Townsend Street, San Francisco, CA 94107-1720 USA
Tel: 415-896-1144   Fax: 415-896-1155




Table of Contents
Lute Suite BWV 996


I. SOURCES
    A. MANUSCRIPTS
    B. THE FACSIMILE OF THE GERBER MANUSCRIPT
    C. THE GERBER AND WALTHER MANUSCRIPTS -
        Agreement and Variance
        1) Title
        2) Instrument Designations
        3) Titles of Movements
        4) Clefs
        5) Music Text
        6) Stemming

II. FORMAT OF EDITION
    A. MUSIC TEXT -- VARIANTS
    B. EMBELLISHMENT AND FERMATA SYMBOLS
    C. PHRASING AND ARTICULATION
    D. ACCENTS
    E. TEMPO
    F. REPEATS
    G. FINGERING
    H. TECHNICAL INDICATIONS
 
III. PERFORMANCE
    A. PART-WRITING AND ARTICULATION
    B. DYNAMICS
    C. EMBELLISHMENT
        1) General
        2) Variants in Manuscripts
        3) Added Embellishments
        4) Embellishment realization
        5) Extended list of ornaments; Trillo, Long Trill,
            Appoggiatura, Schleifer, Arpeggiated chords
        6) Performance of Embellishment figurations
            a) Nuances in Dynamics
            b) Rhythmic Fluidity
            c) General requirements

IV. BACH ON THE GUITAR
    A. STYLE
    B. EXTENSION OF TECHNIQUES FOR STYLISTIC
        GUITAR PERFORMANCE
        1) Playable notes
        2) Sonorities
        3) Cross-string Fingering

V. PERFORMANCE OF THE SUITE MOVEMENTS