Fresh off three concerts with the National Symphony Orchestra as a star stand-in for an indisposed soloist, guitarist Sharon Isbin was at the Phillips Collection on Sunday for a scheduled recital. Shedding the power and amplification needed to be heard over an orchestra in the far reaches of the Kennedy Center's Concert Hall, Isbin recalibrated and seemed to revel in the intense quiet and intimacy of the Phillips's music room.
Isbin is a master molder of color, balance, equilibrium and resonance. Her dynamic range extends from the barely audible to a hearty mezzo-forte that, in this context, seemed to roar. She speaks as eloquently in thin whispers as in bold, vibrant tones, and the audience's stillness—throughout each piece and after the end of each—spoke volumes about Isbin's expressive powers. The most interesting piece was "The Black Decameron," a suite in three movements on an African folk tale, written for Isbin by Cuban composer Leo Brouwer. A hero, a damsel and a chase are always good fodder for a composer's imagination. Brouwer painted his subjects and their predicament vividly, and Isbin's reading was dramatic and full of energy.
November 10, 2014
CD OF THE WEEK: WGBH/WCRB Boston
From Ancient to Modern with Guitarist Sharon Isbin
American guitarist Sharon Isbin brings together an astonishing diversity of music in a five-disc set.
Very rarely does one find a musician as decorated and acclaimed as guitarist Sharon Isbin. Her several Grammy Awards and leadership of the Guitar Department at The Julliard School—which she founded—are just the most obvious markers of a career that has propelled her to the front rank of her profession.
More interesting than her résumé bullet-points, though, is the musical trajectory of that career, much of which is captured in a five-disc set simply titled
Sharon Isbin
. Isbin's performances are faithful and transcendent, evoking an almost otherworldly allure. In fact, some of them were presented to cosmonauts at the Mir Space Station in 1995,
literally
transcending this world.
In this collection, Isbin guides us through works by twenty-eight composers, ranging from Bach to South American folksong writers. They include interpretations of some of the most popular works for her instrument, like Rodrigo's
Concierto de Aranjuez
, as well as newly composed masterworks, like Christopher Rouse's
Concerto de Gaudi
. The variety of textures ranges from solo guitar to full orchestral guitar concertos, adding up to create a testament to Isbin's flexibility and mastery of classical guitar repertoire in all genres, old and new.
Read the review on the WGBH website.


A Virtual Journal and Essential Blog of the Classical Music Scene in Greater Boston
Lee Eiseman, publisher; Robert Levin, advisor; David Moran, assisting editor; Bettina A. Norton, emerita editor
In:
Reviews
September 29, 2014
Being Sharon Isbin
By Cashman Kerr Prince
Last night Rockport Music hosted a screening of the documentary film, "Sharon Isbin: Troubadour" (2014), followed by a Q&A with Susan Dangel, producer/director, and the guitarist. Thereafter Sharon Isbin took to the Shalin Liu stage and shared her incomparable musical prowess.
This original date had been cancelled due to "an act of God". During the storms on that early September night, lightning struck an electrical transformer not once but twice, about 20 seconds apart. No power, no film premiere—instead, Isbin played an impromptu recital in the foyer. Some in yesterday's audience were returnees; it was quite an event.
The hour-long documentary film is part biography and part hagiography of Isbin. Drawing on a wealth of resources, including family footage from her childhood, this documentary traces her route to the classical guitar beginning during one of her father's sabbatical years in Italy—initially as a proxy for her brother who wanted to play rock not scales (and seemed to have been averse to growing his fingernails on his right hand). From childhood interest to all-consuming passion to be the best guitar player she possibly could, we followed Isbin's studies, including her time with Rosalyn Tureck working on Bach and musical interpretation more generally, and her meteoric rise. Not everyone gets hired to start an entire department at Juilliard when in her early thirties. The film includes concert footage and some truly remarkable editing; clips of Isbin practicing at home merge seamlessly with her public performances while the music plays on. (Dangel remarked how that particular edit took two weeks to perfect. I am surprised it didn't take longer.) Like Isbin's playing, the documentary and its editing flow effortlessly. It helps that the guitarist has led a remarkable life and the wealth of cameos from composers, students, even her neighbor David Hyde Pierce, make this a delightful portrait.
After the film, Isbin gave a worldwide tour of old and new music written or transcribed for classical guitar. Beginning with Granados' "Spanish Dance, 'Andaluza,'" op. 37, no. 5, we heard a range of colors and dynamics and beautifully articulated lines. Tárrega's Recuerdos de la Alhambra and Capricho Arabe combined judicious use of rubato with Isbin's ability to make the melody stand out. Her skill with voicing multiple parts and lines reminds me of the awe that greeted the Polish pianist Rafał Blechacz; both musicians have created new techniques at their instrument to better serve the needs of the music. This was certainly true in Tan Dun's Seven Desires for (solo) Guitar (2002), drawn from his guitar concerto, Yi2 (both works written for and premiered by Isbin). Combining East and West, guitar and pipa musical traditions and sounds, microtonality and a wide range of articulations, this is a virtuosic foray which Isbin dispatched with ease and pleasure. Andrew York's Andecy (both composer and music a discovery for me) is a bridge of English and Irish influences (the music of York's childhood, heard played by his father and uncle) written by an American composer and named after a French village. Folk and art music merge in a piece that captures the architecture of Medieval French towns. Albéniz's Mallorca (transcribed by Segovia) was sheer happiness. Savio's Batucada contained rhythmic precision and flowing melody, a delightful turn to South American music. The evening concluded with La Catedral and Waltz, Op. 8, No. 4, both by Agustín Barrios Mangoré, the so-called "Paganini of the Jungle." Combining love for Bach, Chopin and other Romantic composers, and Latin American folk music, this composer deserves a following beyond devotees of the guitar. La Catedral manages to be reverent, structural, and ecstatic. Isbin brought this tour de force to vibrant life—as throughout the concert.
Recalled to the stage, Isbin offered as encore Gentil Montaña's Porro, based on a traditional Colombian dance.
The documentary film includes rock guitarist Steve Vai, who is asked what the difference is between his playing and Isbin's. He responds, "It's not like apples and oranges. It's more like apples and beef yogurt." What makes Isbin so remarkable is that she bridges a number of different performance styles and traditions (even if she remains personally unsatisfied with her skills at improvisation), she brings her high level of musicality to all music, and she never loses sight of music being an emotional and communicative medium of expression. With the nuances and sensitivity of her playing, she is fluent in making music that touches hearts and minds, reaching wide audiences and recruiting worldwide to the joys and delights of the classical, and not-so-classical, guitar—even if the idea of beef yogurt remains less than palatable.
"Sharon Isbin: Troubadour" is being distributed by American Public Television and will be aired on public television affiliates beginning this November.

Sharon Isbin: Troubadour
A Documentary Film
2014
Sharon Isbin: Troubadour
is a one-hour documentary produced by Susan Dangel. Guests include Martina Navratilova, Michelle Obama, Joan Baez, Steve Vai, Stanley Jordan, Garrison Keillor, David Hyde Pierce, Janis Ian, Lesley Gore, Mark O'Connor, Tan Dun, John Corigliano, Christopher Rouse, Joan Tower, Leonard Slatkin, Paul Winter, and more, with Isbin's performances showcased from international concert stages to the GRAMMYs and White House. Narrated by NPR's Susan Stamberg, the film combines performance and documentary to focus on Isbin's unusual and inspiring journey which has expanded and transformed the landscape of the instrument.
WATCH TRAILER
"Sharon Isbin: Troubadour is a wonderful piece that artfully shares this artist's passion for musical creation and exploration.... Fantastic ... wonderful to watch."
  Guitar World
"A loving, thoughtful and richly photographed documentary portrait of the world's most eminent classical guitarist. Isbin's story is an inspiration—from her ascent to the peak of the male-dominated field of classical guitar to her tireless championing of new works for guitar and quest for new musical worlds to conquer. Don't miss it!"
  Michael Anthony, critic, Star Tribune (Minneapolis)
"Sharon Isbin: Troubadour goes far beyond the expectations of an artist-portrait documentary. The result is a look inside a life as rich, as dazzling, as engaging and as playful as the subject's acclaimed artistry, a highly entertaining portrayal of a seemingly unlikely life's journey."
  Steve Hochman, music journalist,
  Los Angeles Times, KPCC, Grammy.com
"I was deeply moved by this splendid and brilliant documentary. Artfully directed and edited, it gives a wonderful view of Sharon Isbin as a musician, performing artist, teacher, person, and creator of a legacy of compositions."
  Michael Charry, author George Szell: A Life
"Like Isbin's playing, the documentary and its editing flow effortlessly. It helps that the guitarist has led a remarkable life and the wealth of cameos make this a delightful portrait. What makes Isbin so remarkable is that she bridges a number of different performance styles and traditions, she brings her high level of musicality to all music, and she never loses sight of music being an emotional and communicative medium of expression. With the nuances and sensitivity of her playing, she is fluent in making music that touches hearts and minds, reaching wide audiences and recruiting worldwide to the joys and delights of the classical, and not-so-classical, guitar."
  The Boston Musical Intelligencer


March 2, 2014
Guitar Passions Featuring Sharon Isbin, Stanley Jordan & Romero Lubambo
By Marisa Gates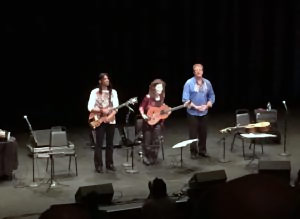 The perfect classical guitar trifecta
If you've got a hankering to witness the perfect classical guitar trifecta, then your best bet is to check out Stanley Jordan, Sharon Isbin and Romero Lubambo perform during Guitar Passions, a tour inspired by Isbin's 2011 release
Sharon Isbin & Friends: Guitar Passions
.
They've just wrapped up an 18-date tour, and this trio brings a new meaning to the concept of classical guitar concerts. Allow me to explain...
First, these three amazing instrumentalists were meant to play together. The chemistry between them is so genuine it was evident they were communicating at another level. If we had to compare it to something, it'd be like a love triangle of soul mates who finish each other's sentences.
Secondly, sometimes it felt like we were at a comedy show. Lubambo, who is from Brazil but resides—in his own words—in the "United States of New Jersey," has a gregarious personality that was both charming and contagious. He would joke around in the most opportune moments, which kept the vibe casual and warm and the nearly sold-out crowd laughing.
Lastly—where else could you find an electric guitarist who plays both guitar and piano simultaneously (Jordan), a classical guitar virtuoso (Isbin), and a Brazilian improv Maestro (Lubambo)? Nowhere! It almost sounds like the plot to a funny joke, "So, an electric guitarist, a classical guitarist and a Brazilian fingerstylist walk into a bar..." Simply awesome.
Those who attended the show were treated to an exquisite medley of compositions, mostly by Latin American maestros such as Joaquin Rodrigo, Antonio Carlos Jobim, Isaac Albéniz, Gentil Montaña, Quique Sinesi, Ariel Ramírez, and Alfredo Vianna.
Jordan, Isbin and Lubambo traded spots during the show, playing alone, as a trio and as a duet.
A truly memorable performance was Jordan's insane master tapping double duty on piano and electric guitar, as he performed a number by Béla Bartók, for which he earned a well-deserved standing ovation.
Isbin delivered impeccable renditions of classics like "La Catedral" by Agustin Barrios, and "Asturias" by Isaac Albeniz, in all her classical guitar glory and majesty.
Lubambo played graceful pieces like "Luisa," which he composed for his daughter, and a modern interpretation of jazz classic "All The Things You Are" by Jerome Kern.
But just because the tour ended doesn't mean you can't enjoy these guitar virtuosos' music. You can listen to them time and time again if you grab Isbin's Sharon Isbin & Friends: Guitar Passions record, which features both Jordan and Lubambo and which we wholeheartedly recommend!
Head over to
www.sharonisbin.com
for future tour dates, and check out this live performance the trio made during their stop in Detroit:

Sharon Isbin, Stanley Jordan & Romero Lubambo perform live on Detroit television during their 18-city 2014 Guitar Passions tour. Their performances combine jazz, classical, rock and Brazilian styles in a unique fusion of genres. Guitar World magazine wrote: "These three amazing instrumentalists were meant to play together. The chemistry between them is so genuine ... like a love triangle of soul mates who finish each other's sentences."


March 17, 2013
Classical guitar virtuoso Sharon Isbin offers an evening to remember
By Stephen Brookes
It would be hard—make that nearly impossible—to find an American classical guitarist more influential than Sharon Isbin. Her jaw-dropping technique and lyrical interpretations have helped bring the guitar into the classical mainstream, and a rather spectacular array of new masterworks has been written expressly for her. So it was a treat to hear Isbin perform Friday night at the Church of the Epiphany, where she combined staples of the repertoire with newer works that pushed the guitar into provocative, edgy new realms.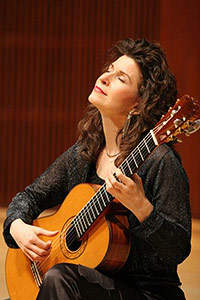 (Darnell Renee) - Sharon Isbin.
The theme of the program was memory—"the composer looking back," as Isbin put it—and there was a certain emotion-recollected-in-tranquillity tone to the evening. A genial little samba by Isaias Savio got things rolling, followed by Isaac Albeniz's "Mallorca" and mesmerizing "Asturias," light-filled works tossed off with great charm and color. But the music turned darker—and infinitely stranger—with Benjamin Britten's "Nocturnal After John Dowland, Op. 70." Dating from 1963, it's a wildly imaginative masterpiece, a phantasmagoric journey through the feverish and often unsettling world of the subconscious. Isbin, who conjures an extraordinary palette of sound from her instrument, turned in a wonderfully shadowy reading that resolved with great tenderness into Dowland's original theme. The effect was like waking from a deep and compelling dream.
The evening's second half was nearly as intriguing. Bruce MacCombie's "Nightshade Rounds," with its shimmering cascades of repeated notes, was written for Isbin more than three decades ago but is still a delight, and Andrew York's agreeable, folk-flavored "Andecy" served as a sort of resting spot among the more adventurous works on the program. And few new works are as adventurous as "Seven Desires for Guitar," written for Isbin by the Chinese composer Tan Dun. Combining flamenco-style foot-stomping with the bent notes of the ancient Chinese pipa, it's a freewheeling work with a kind of elemental energy and anything-goes, postmodern lack of inhibition. Agustin Barrios Mangore's classic "La Catedral" closed the program, interrupted faintly—and a bit poetically—by the bells of the church.
Brookes is a freelance writer.


Tuesday, August 30, 2011
Sharon Isbin Introduces 'Guitar Passions', Featuring Steve Vai, Nancy Wilson, Steve Morse and More
By Laura B. Whitmore, Mailina Dalit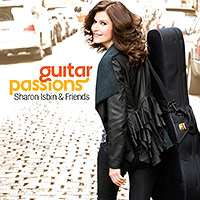 There's something about classical guitar that just blows me away. The classical world's version of shred is so technically mind-boggling and gorgeously rendered at the same time. And Grammy Award-winning guitarist Sharon Isbin is truly a master of this genre.
Isbin's been an acclaimed performer for many years, but it's her new album that elevates classical guitar to a whole new level. On
Sharon Isbin & Friends: Guitar Passions
, available on Sony Records today, August 30, Isbin collaborates with a cadre of diverse guitar virtuosos such as Steve Vai, Steve Morse, Stanley Jordan and Nancy Wilson. She masterfully captures what's unique about each performer's personality and style and melds it into a new guitarified creation.
"I'm paying tribute to my guitar heroes," Isbin says. "These are artists whom I admire greatly, who are also heroes in their own realms."
Isbin's team of collaborators is a perfect match for the Latin American flair that resonates throughout the album. Vai improvises on "La Catedral", written by Paraguayan composer Agustin Barrios Mangore. Stanley Jordan shows off his jazz chops in "Sonidos de aquel dia", composed by Argentinean Quique Sinesi. Drawing on influences from countries including Brazil, Paraguay, Argentina, Colombia and Spain, Isbin eloquently incorporates Latin flavors in each song of the album.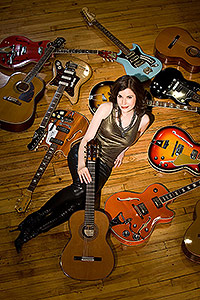 Her rendition of "Dreamboat Annie" with Heart's very own Nancy Wilson unexpectedly showcases some Latin tang. Isbin explains, "We put in a little bossa nova instrumental at the end to make it part of the whole instead of the exception!"
Most impressively, seven of the 11 titles are premiere recordings. Isbin profoundly appreciates the masterpiece album she has created with her friends. "It's only when I step back afterwards that I can say, 'Ah! That's why it happened!' It's our passion for the guitar and musical discovery that has brought us all together."
Catch a video preview of Sharon Isbin's
Guitar Passions
with bits featuring Vai, Jordan and more:
http://www.youtube.com/sharonisbin/

Monday, May 16, 2011, Music Review
Classical Guitarist Making Herself Heard
By Allan Kozinn
The classical guitar is mostly a solitary instrument, partly because the greatest works written for it are in the solo repertory. So even though its concerto repertory has grown prodigiously since the late 1930s and is plentifully available on recordings, opportunities to hear guitarists play concertos in concert remain comparatively rare.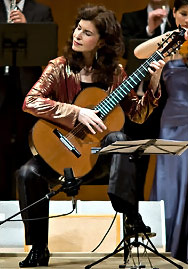 Brian Harkin for The New York Times
Sharon Isbin performed with the Salomé Chamber Orchestra at the Metropolitan Museum of Art.
The technical problem should no longer be so daunting now that guitarists routinely use subtle amplification, as Sharon Isbin did in her performance with the Salomé Chamber Orchestra on Saturday evening at the Metropolitan Museum. Ms. Isbin uses a system that lets her be heard but preserves the poetry and warmth of the guitar's timbre: her sound was rounded and buttery throughout the instrument's range.
The evening was very much hers. Though the orchestra, which performs standing and without a conductor, gave a glowing account of Elgar's Introduction and Allegro (Op. 47), it mostly collaborated with Ms. Isbin on concertos and a chamber piece.
The program opened with Vivaldi's Concerto in D (RV 93), originally for the lute. Ms. Isbin took a relaxed, easygoing approach, even in the bright outer movements. But if her focus was on precision and directness, she sacrificed nothing in energy. As in her Virgin and Warner recordings of the work, she was generous with ornamentation in the repeated sections. In the Adagio especially, she expanded freely on Vivaldi's slow-moving, introspective melody and adorned phrase endings with cross-string trills, which, unlike the easier and more common single variety, have the clarity and definition of a keyboard trill.
Ms. Isbin took a similarly mellow approach to Rodrigo's "Fantasía Para un Gentilhombre", a 1954 meditation on dances by the 17th-century Spanish composer Gaspar Sanz. Usually this fantasia is played as a straightforward dialogue between guitar and orchestra, each presenting Rodrigo's elaborations on the Sanz pieces with equal zest. Ms. Isbin, instead, created the illusion of historical distance, as if the guitar line represented Sanz's voice, with the orchestra providing Rodrigo's commentary. (That said, she was at her most arresting in the very un-Sanzian harplike cadenza in the finale.)
Between the Vivaldi and Rodrigo works, Ms. Isbin and a quartet from the orchestra (a quintet if you count the castanet and tambourine player, who joined in for the Fandango finale) gave a brisk account of Boccherini's Quintet No. 4 (G. 448). Ms. Isbin also played two solo works: a lovely account of Tárrega's "Capricho Arabe" in which her rhythmically free reading of the introductory filigree suggested the sound of an oud, and Andrew York's pleasant "Andecy".

October 22, 2009
Classical guitarist Sharon Isbin shines in performance with Nashville Symphony
By Russell Johnston
Guitar with orchestra has historically been an unusual pairing, but six-string virtuoso Sharon Isbin is changing that. She's on the short list of today's top classical guitarists, and her performance last Friday with the Nashville Symphony for "Classical Guitar, German Genius", was an ear-opening demonstration of the instrument's possibilities.
The orchestra was in fine form under the baton of guest conductor John Fiore, whose reading of the overture and "Venusberg Music" from Wagner's Tannhäuser translated into a compelling performance. Their transparent sound clarified how Wagner's distinctive and often unexpected harmonies emerge from intertwining melodic strands.
Isbin has done much to increase her instrument's repertoire; Christopher Rouse's Concert de Gaudí was the ninth guitar concerto she has commissioned or premiered (her recording of this engaging work earned a Grammy award in 2002).
Flamenco-flavored strumming and castanets quickly place the piece in a Spanish sound-world, but this is no pastiche—Rouse works the "ethnic" materials into a somewhat surreal, dreamlike fabric. Though it nominally follows a classic three-movement template, the concerto has a fluidity of form echoing the hallucinatory quality of Antoni Gaudí's architecture, which inspired the work.
Rouse's guitar writing is highly idiomatic, giving Isbin a great platform to showcase the instrument's many colors and techniques. She ranged from a huge, rich tone in the melodic middle movement to a penetrating, tightly focused sound in more rapid-fire sections, and her tremolo was staggeringly smooth.
The orchestral palette was just as colorful as the soloist's, with its lush string backdrops, dissonant but halo-like chords in the winds, subtle and effective percussion. Rouse suggests a breath of wind by combining a shimmering cymbal with some hissing into the trombones, which sounds a lot more gimmicky in prose than it did in performance.
Isbin, who returned to the stage after the concerto for a pleasant rendition of guitarist/composer Andrew York's folk-flavored Andecy, has a simple solution to the balance problems that have typically plagued guitarists on the orchestral platform—amplification. Now, don't get squeamish: She didn't plug into a Fender Twin Reverb. Low-lying speakers directly behind her onstage blended naturally with the acoustic instrument, creating no aural confusion about the soloist's location. This way, she did not have to sacrifice subtlety to be heard, and the orchestra was not hamstrung by trying to stay out of her way.
Fiore's tasteful pacing effectively conveyed both the breezy lyricism and the Beethovenian developmental propulsion of Robert Schumann's Symphony No. 3. Intermission wasn't sufficient to clear away Rouse's varied orchestration; perhaps that's why Schumann's instrumental textures felt a bit heavy. Though the program order was conventional, opening the concert with this piece may have helped listeners hear it more sympathetically. That question aside, the performance was certainly well-executed, and particularly enjoyable was the organ-like feel of the contrapuntal fourth movement, where Schumann puts his somewhat blocky orchestration to evocative use.
With a varied and interesting repertoire, top-notch soloists and an orchestra more polished than ever, the Nashville Symphony is off to a great start this season. If you haven't made it down to the Schermerhorn Center yet this fall, stop procrastinating and get yourself a ticket.


Publicado el martes 21 de julio del 2009, MIAMI
Sharon Isbin, la intimidad de la guitarra
By Daniel Fernandez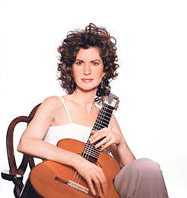 Desde muy temprana edad Sharon Isbin comenzó a cosechar premios y distinciones con su instrumento, la guitarra. Heredera de la tradición de sus más insignes maestros: Segovia, Díaz, Minella, Turek, se mantiene como una de las guitarristas más buscadas y gustadas, como quedó demostrado en el recital que ofreciera el jueves 16, en la Cogregational Church de Coral Gables, como parte de la Summer Series de ese templo.
Comenzó la noche con una estilizada Batucada, de Isaias Savio, seguida de un difícil y sabroso Estudio, de Villa-Lobos en edición de Barbosa-Lima; pero fue en la siguiente obra, donde pudo apreciarse con mayor profundidad el nivel interpretativo y la irreprochable técnica de Isbin, El decamerón negro, de Brouwer, obra en tres partes compuesta para ella.
Brouwer ha logrado un exitoso sincretismo de lo afrocubano con las armonías atonales y la guitarrista parece muy identificada con el sabor latinoamericano; aunque su repertorio es vasto en tiempo y espacio. En esta obra difícil y sensual, se mostró siempre en absoluto control.
Las tres últimas piezas de la primera parte de la noche fueron clásicos de la guitarra, epítomes de la escuela y el alma españolas: Danza española no. 5, de Granados; Recuerdos de Alhambra, de Tárrega, y Asturias, de Albéniz. Aquí la intérprete no sólo se dio un gusto bien visible, sino que hizo gala de su técnica, especialmente en la filigrana "acuática" que abre la de Tárrega. Isbin gusta de tomar las obras hacia el extremo más lento, enriqueciendo en intensidad los pasajes y elaborando sus frases de manera que se establezca su personalidad sin quebrar la tradición.
Pero si bien en los clásicos de la guitarra Isbin se lució, no menos brillante quedó en la segunda parte del programa con un repertorio más cercano. Primero Joan Baez Suite, op. 144, de John Duarte, también compuesta para ella, por encargo de la Augustine Foundation. En siete partes, esta obra recrea para la guitarra algunas de las canciones que llevaran a Baez a la fama mundial en la década de 1960. Especialmente evocadora y bella es la parte VI) Where Have All the Flowers Gone? que se siente como muy cercana a la intérprete.
La siguiente oferta resultó posiblemente el momento más hermoso y mágico de la noche, el Capricho árabe, de Tárrega, que Isbin entregó con especial sensualidad y magia. Luego el Zapateado, de Regino Sainz de la Maza, puso un poco de velocidad en los hábiles dedos de Isbin, para cerrar finalmente con dos valses, uno venezolano y otro peruano, el Vals no. 3, de Antonio Lauro, y el Vals op.8, #4, de Agustín Barrios Mangoré. Durante toda la noche, la guitarrista presentaba sus piezas y hacia comentarios más o menos informativos o chistosos, antes de los valses, comentó que el día anterior había partido desde Venecia para llegar a Miami después de un vuelo de 21 horas. Quizá para hacer saber al público cautivo que se encontraba cansada y que no podía esperar muchos encores. También habló de su reciente disco Journey to the New World con Baez y el formidable violinista y compositor Mark O'Connor.
Y así fue, a pesar de la ovación de pie, al concluir sus exquisitas entregas de los valses, Isbin sólo regaló un hermoso número, su propio arreglo de la obra de Naomi Shemer Jerusalem de oro. Fue una noche muy especial con una de las leyendas vivas de la guitarra.
© 2009 El Nuevo Herald. All Rights Reserved.


July 18, 2009
A masterful Isbin reigns over the classical guitar
By David Fleshler
The guitar occupies a difficult place in the classical-music world. Long a preeminent pop-music instrument, it has a relatively small classical repertoire and the opportunity for only one or two real stars to emerge every generation. Sharon Isbin, who performed Thursday in Coral Gables, is the instrument's reigning star. Her classical credentials are impeccable: Grammy winner; first guitarist to make a recording with the New York Philharmonic, founder and chair of Juilliard's guitar department. Beyond the concert hall, she appears frequently on NPR's
All Things Considered
and
A Prairie Home Companion
, and she performed for the soundtrack of Martin Scorcese's
The Departed
.
Her drawing power was clear in her performance at Coral Gables Congregational Church for the Community Arts Program summer series, as organizers set up extra chairs to handle the crowd.
Isbin's manner is dramatic. As she plays, she closes her eyes and leans into the guitar or holds her head up as if staring into the distance. But there wasn't a hint of showing off in her playing, despite her clear mastery of the instrument. Difficult rapid notes and complex accompanying passages came off without strain, as Isbin appeared to put all her energy into drawing out the music. Her palette of tone colors was vast—rounded, bell-like tones for melodies in the upper strings for the Granados Spanish Dance No. 5;delicate tremolos for Tarrega's famous, mandolin-like
Recuerdos de la Alhambra
; sharp needle thrusts and grand sweeps of the right hand for Albeniz's even more famous
Asturias
. Isbin has a commendable history of commissioning new works for guitar by composers including John Corigliano, Lukas Foss and Joseph Schwantner. Her Coral Gables performance including two works written for her.
The first was the engagingly atmospheric
Black Decameron
by the Cuban composer Leo Brouwer, a meditative, harmonically rich work inspired by African love songs. The second commissioned was John Duarte's 2002
Joan Baez Suite
, a seven-movement piece that takes such songs as
The House of the Rising Sun
and
Where Have all the Flowers Gone
and elaborates on them with unusual harmonies and bits of classical repertoire, such as Purcell's aria
When I am Laid in Earth
and Schubert's song
Trockne Blumen
. If any instrument can make connections between the classical and popular worlds, it's the guitar.
Isbin's superb musicianship and effortless technique came off best in the more idiomatic works of Albeniz, Tarrega and a few others who took best advantage of the guitar's melodic and harmonic capabilities.


September 18, 2008
Guitarist Sharon Isbin creates rare, totally hushed moment
By David Hawley, Special to the Pioneer Press
The Minnesota Orchestra launched its 106th season Thursday with the traditional playing of the "Star Spangled Banner" and also marked the state's sesquicentennial with a stirring new orchestration of "Hail! Minnesota" that ought to be added to the orchestra's annual season-opening flourishes.
"Hail! Minnesota", in case you've forgotten, is the official state song, written in 1904 by Truman E. Rickard and reportedly inspired by the composer's camping trip to some northern wilderness. Steve Heitzeg's new arrangement manages to provide both a triumphant fanfare and a tender ode while still offering stanzas that can be sung by an audience.
From there, attention turned to works written in or inspired by Spanish-speaking countries, featuring another welcome appearance by Minnesota-born guitarist Sharon Isbin.
The titled theme of the opening program is "Viva Espana", and I suspect it was constructed around the appearance of Isbin performing her acclaimed interpretation of Joaquin Rodrigo's "Concierto de Aranjuez". Probably the most popular piece ever written for guitar and full orchestra, it's part of Isbin's core repertoire, and it's been said her interpretation is the one Rodrigo preferred.
But don't worry about Isbin telephoning it in. Her first performance Thursday—particularly when she played the achingly tender second movement—created one of those rare, totally hushed moments that don't occur often enough in the concert hall. Isbin is themaster of this piece and seemingly discovers it anew each time she plays it.
The other highlight of the program was Alberto Ginastera's "Variaciones concertantes", a set of two interludes and seven variations that has a notable connection to this orchestra. The American premiere of the work was given here in 1953 and Conductor Antal Dorati recorded it with the orchestra the following year.
It's a great showpiece, offering solo work for various single or paired instruments before ending in a highvoltage gaucho dance. Fittingly for the start of a season, it provided a showcase for the depth of this band's musicianship—including solo turns for such seldom-spotlighted instruments as double bass and viola.
The program also included an up-tempo version of Chabrier's familiar "Espana", which opened the concert nicely but seemed like a bon-bon; and the second suite from Manuel de Falla's ballet, "The Three-Cornered Hat". The concert closer was Copland's "El Salon Mexico", which brought a Gershwinesque jazziness to Hispanic tunes and finished with a slam-bang.
What:
Minnesota Orchestra performs music inspired by Spanish-speaking countries. Soloist: Guitarist Sharon Isbin.
Where:
College of Saint Benedict, St. Joseph.

March 6, 2008
Guitarist Isbin a knockout with CSO
By Kyle MacMillan
It's amazing that 13 years have passed since the Colorado Symphony's last performance of Joaquin Rodrigo's "Concierto de Aranjuez", given the guitar showpiece's innate popular appeal.
That this work is not a fixture on symphonic programs, as it deserves to be, says a great deal about the guitar's historically secondary status as a solo instrument.
But its standing is clearly on the rise, as evidenced Friday evening at Boettcher Concert Hall by the unusually fervid—and richly deserved—ovations for guitarist Sharon Isbin, who made her long-overdue debut with the symphony.
In what proves to be a knock-out combination, she merges extraordinary technical facility with a clean, lithe style, and, perhaps most important, the evocative power of a keen storyteller.
For her Denver appearance, Isbin performed two of the most beloved orchestral works for solo guitar, starting with Antonio Vivaldi's Guitar Concerto in D major, RV 93, with a suitably intimate ensemble of 19 musicians.
As wonderfully sprightly as the opening is, the slow second movement is the focal point, and Isbin performed this enchanting section with leisurely delicacy, conjuring the seeming timelessness of a lazy spring afternoon.
The "Concierto de Aranjuez" (1937) is meant to be a virtuosic guitar showcase, and Isbin made sure it was, not with needless flash and flourishes but with artful and expressive musicianship. If the first movement of this high-spirited, folk-flavored work was less emphatic than some versions—more smoldering embers than flames—it was no less expressive.
As in the Vivaldi, the highlight is the slow second movement, and here her abilities as musical storyteller were most evident as she offered a soulful, penetrating take on Rodrigo's powerful music.
As an encore, Isbin presented Francisco Tárrega's "Recuerdos de la Alhambra", with her fluttering fingers casting an enchanting spell.
Ending the evening were two masterworks by Claude Debussy, including "La Mer", which pose enormous interpretative challenges. Conductor Scott O'Neil conveyed the basic sense of these pieces but little of the ethereal transcendency they can attain.


Friday, March 9, 2007
Something special
Classical guitar master Sharon Isbin shines at Scott
By Matthew Erikson
, Star-Telegram Staff Writer
FORT WORTH—How do we love guitarist Sharon Isbin? Let us count the ways.
Thursday evening at Scott Theatre, Isbin was the featured performer for the Fort Worth Classic Guitar Society's recital series, one that regularly brings in distinguished performers.
Yet there's something special about Isbin. As a woman in a male-dominated field, Isbin has been a trailblazer in more ways than most classical musicians could ever dream.
Her teachers include the legendary Andres Segovia and piano doyenne Rosalyn Tureck. She's the first guitarist to record with the New York Philharmonic. What's more, Isbin has had no difficulty straddling the worlds of classical music and pop culture; her playing is on the soundtrack of the film
The Departed.
She won a Grammy in 2001 and has commissioned a whopping number of works for guitar.
Three of those commissions—works by Leo Brouwer, John Duarte and Tan Dun—were heard in Thursday's mostly Latin and folk-flavored program. Isbin's artistry made every one of the assorted pieces shine.
Impeccable voicing and a bell-like clarity added excitement to the samba rhythms of Isaias Savio's
Batucada,
the evening's curtain-raiser. Evocative narrative-inspired pieces by Gaudencio Thiago de Mello and Brouwer (his
Black Decameron
) displayed a gorgeous dynamic range and a gift for interpretative color.
Isbin demonstrated a singer's cantabile and supple phrasing throughout a lovely set of pieces by Spanish composers Granados, Tarrega and Albeniz.
Duarte's
Joan Baez Suite
and Tan's
Seven Desires for Guitar
were testaments to Isbin's versatility. They were also the most intriguing works of the evening. Baez's folk-like strains were given polyphonic, richly hued treatment in Duarte's touching work. Tan's exotic music was brilliantly rendered with its percussive embellishments and strumming sounds simulating a Chinese lute.


Thursday, March 8, 2007
Isbin fills Caruth with refined guitar playing
By Scott Cantrell
/ Classical Music Critic

Darnell Renee / Special Contributor 
Sharon Isbin brought an amazing range of color and texture to her performance at Southern Methodist University's Caruth Auditorium.
If there were any doubts of the guitar's potential for elegance, they were laid to rest Tuesday evening by Sharon Isbin. Classical guitar's reigning diva came to Southern Methodist University's Caruth Auditorium and, in an enterprising program ranging from the 19th to the 21st century, put on quite a show of sophisticated musicianship.
Ms. Isbin used every decibel to telling effect, while cultivating an amazing range of color and texture. And she could have taught many a pianist and conductor a lot about rhythm and its subtleties.
There was a fair bit of typical feel-good Spanish and Latin-American music. Ms. Isbin brought the loveliest improvisational feeling to Enrique Granados' Spanish Dance No. 5 and generously expressive pliancy to Francisco Tárrega's
Recuerdos de la Alhambra.
It's hard to imagine more enchanting performances of dances by the Spaniard Regino Sainz de la Maza, the Brazilian Isaias Savio and the Paraguayan Agustin Barrios Mangoré.
But Ms. Isbin has also been a muse for numerous living composers, and the program included three significant works penned for her.
From the Chinese-born American composer Tan Dun came
Seven Desires for Guitar,
arranged by Dr. Tan in 2000 from his earlier guitar concerto for Ms. Isbin. This deftly mixed echoes of foot-stamping, guitar-slapping flamenco with the twangy, pitch-tweaking idioms of traditional Chinese music for the stringed instrument called the pipa.
A
Joan Baez Suite
by English composer John Duarte was an imaginative seven-movement sendup of songs associated with the American folk singer. From a bit of neoclassical counterpoint for "Once I Had a Sweetheart" to stark open fifths accompanying "The Unquiet Grave" to gently surprising harmonies for "House of the Rising Sun," this certainly refreshed familiar material.
African love stories were the inspiration for
The Black Decameron,
a 1981 triptych by Cuban guitarist-composer Leo Brouwer. Ms. Isbin worked particular magic here with colors, in "The Maiden in Love" layering no fewer than three different tone qualities, from pingy to quietly creamy.
The printed program devoted a page apiece to Ms. Isbin and the Allegro Guitar Society of Dallas, which presented the recital, but not an inch to notes on the music. But, in a pleasantly unassuming way, Ms. Isbin supplied useful spoken introductions.


February 13, 2001 - Page D03 - Music Review
Sharon Isbin plays beyond virtuosity
By Michael Manning, Globe Correspondent
Sometime after the '60s, the guitar replaced the piano as the most widely abused instrument. But the upside of that spike in interest was a small group of American guitarists, now enjoying the full maturity of middle age, who've inspired a significant new guitar repertoire while bringing the instrument, with its old repertoire intact, into the 21st century. Principal among these artists is Sharon Isbin, whose FleetBoston Celebrity Series recital took place Saturday night in Jordan Hall.
Isbin's artistry thwarts the kind of analytical listening that usually informs notices like this. This listener found such analysis trivial in the face of the overwhelming humanity and emotionality of Isbin's playing. To be clear, I'm not talking about turgid, hyperbolic sentiment, nor am I suggesting in any way a paucity of intelligence or the supplanting of coherence with impulse. Neither is it implied that Isbin is anything less than a traditional virtuosa. It's just that her playing connects in ways that are deeply instinctual and natural, drawing one into the moment like the best storytelling does. One garners feelings from her playing—not abstractions of emotion, but nameable feelings such as melancholy, nostalgia, and happiness.
If there's a warhorse in the guitar's repertoire, it's Francisco Tarrega's trembling portrait of a medieval Spanish citadel, "Recuerdos de la Alhambra." Isbin's performance was full of the remembrance that the title explicitly names. Enrique Granados's Spanish Dance No. 5 is another well-worn concert morsel. Originally written for piano, its braying grace notes and need for licentious rubato and quick shifts of color make it guitar piece nearly perfect for virtuosi like Isbin.
Of late, Isbin has been collaborating with the Brazilian percussionist Gaudencio Thiago de Mello, with whom she shared half of this program. On a range of instruments, from rainsticks to turtle shells to ceramic jugs to what appeared simply to be a wooden box, de Mello produced extraordinary sounds. He's one of those percussionists who constantly plays melody; he shapes rhythms with the sensibilities of a poet, coloring like an instrumentalist, phrasing like a singer.
It's sufficient to say of his compositions that they are beautiful. But they're also gentle, hypnotic, bewitching, and beguiling—stylistically crossing Antonio Carlos Jobim with Paul Winter. Just to hear the elaborate, polytonal song of the rare Amazonian bird uirapuru, woven by tape into one of his pieces, would have redeemed the entire evening. But the evening comprised so much more than individual moments, achieving what few events of any kind do—meaning.
© Copyright 2001 Globe Newspaper Company


June 5, 2000
Sharon Isbin at Pick-Staiger Concert Hall
A journey of a thousand colors begins with the artistry of Sharon Isbin
By John von Rhein Chicago Tribune Music Critic
If the critic James Gibbons Huneker were still around to write his inimitable critical prose, he would call Sharon Isbin a pianississimist. She gets nuances out of the classical guitar few guitarists since Segovia have matched. Everything she performs bespeaks perfect technical control yet suggests spontaneous improvisation-the art that conceals art.
Her instrument speaks with a thousand colors and those colors were marvelously arrayed at Pick-Staiger Concert Hall on Saturday night, when the American guitar virtuoso presented a recital to close the season's Segovia Classical Guitar series, sponsored by the Northwestern University School of Music and the Chicago Classical Guitar Society.
The guitar is an intimate instrument, one much better suited to a private salon than a large concert hall. Through her formidable artistry and with the help of her custom-built wireless sound reinforcement system, Isbin succeeded in striking a happy medium. Even when her playing sank to a confidential whisper, her tone had body and impact, and she was free to commune with the audience through her music.
No guitarist is more eager to embrace the many worlds that the classical guitar can bridge. Isbin's program, including selections from two of her Teldec albums, 'Dreams of a World' and 'Journey to the Amazon,' offered an engaging tour of classical and folk music.
The guitarist ventured from the Brazilian rainforest to Venezuela, Cuba, Spain, Israel and the Appalachian Mountains. Her artistry is such that she spoke every musical dialect like a native.
Raptly engaged in her playing as much as in her spoken introductions to each piece, the audience clearly enjoyed the ride. The subtleties of her soft dynamics required a degree of close concentration from her listeners, which I'm happy to report they gave her.
Her obviously deep love of the instrument and its traditions is matched by her flawless intonation, clarity of articulation and ability to spin a warm singing line as subtly and sensitively as any classical recital singer.
Rhythmic urgency and a command of a vast color palette seem second nature to her. In Tarrega's 'Recuerdos de la Alhambra' (Memories of the Alhambra) she kept the melody distinct over an accompaniment suggesting multiple strummed guitars.
Her playing was positively hypnotic in Granados' 'Leyenda' (WFMT's familiar signature music), whose ostinato figure she traced in a crescendo of gathering intensity.
The South American portion of her world tour was particularly noteworthy because of the unfamiliar composers and pieces it turned up. Isbin sang tenderly (Antonio Lauro's 'Waltz No. 3, Natalia') before launching into an infectiously spirited Brazilian samba by Isaias Savio ('Batucada') such as one might encounter during carnival time.
I would like to have heard the 'rainforest' percussion obbligato to Guadencio Thiago de Mello's 'Uirapuru do Amazonas' but was delighted to discover the piece so beautifully played in solo form.
Isbin has worked with numerous composers to bring new music into the world, and three such works—music written for her or arranged by her—were included in her program.
Leo Brouwer's absorbing 'The Black Decameron' (1981) seasons Afro-Cuban melodies and rhythms with some mild harmonic spice. Isbin's arrangements of four songs by the Israeli composer Naomi Shemer—her country's troubadour poet—pay heartfelt tribute to the soil and soul of a people.
Best of all was British composer John Duarte's five-part suite 'Appalachian Dreams' (1996), settings of nine folk songs that cover an extraordinary range of timbres, textures and moods, including a down-and-dirty bluegrass-guitar treatment of 'Darling Cora.' All three works were splendidly played, as was Granados' Spanish Dance No. 5, played as an encore.